About Us
Continuous Improvement
In support of Penn's Second Year Experience, the University's ability to offer a full two-year College House system will be made possible with the opening of New College House in fall 2021, which will increase capacity for an additional 430 upperclass students on campus.

In addition to New College House West, we continue making major investments in Penn's existing College Houses. The projects completed this summer are listed below.
| Building | Project | Outcome |
| --- | --- | --- |
| Gregory College House | HVAC Units | Resident rooms, corridors, and common areas will receive new HVAC units that will provide both heating and air-conditioning to these spaces. The windows in Gregory are being replaced and new roller shades are being installed in place of the existing metal blinds. |
| New College House | Construction of College House | New 430-bed building in Hamilton Village. |
Hill House is a vibrant residential community with a special commitment to first year students — a commitment shared by an energetic group of upper class students who eagerly choose to live in Hill for its leadership opportunities. The resident Faculty Director, House Fellows, House Director and Graduate Associates are dedicated to providing residents with personal and professional assistance to successfully transition to University life both intellectually and socially.
In June 2016, Penn began a major renovation to Hill, to be completed in time for August 2017 Move In.

When Hill first opened in 1961 as a Penn's women's dormitory, the Pennsylvania Gazette ran a multi-page photo-essay headlined "A Starkly-Plain Outside But a Wow! Inside." One charmed resident likened the airy interior -- with its dramatic atrium, "wrought-iron balustrades (and) louvered shutters," and "green tropical plants" to being "in a Mediterranean town." Penn has demonstrated its commitment to providing a unique and dynamic residential experience to future residents of Hill through extensive renovation that should see the house through another 50 years of living and learning.
Hill Modernization 2016-2017


A complete building renovation at Hill will address maintenance and system upgrades needed for a modern College House. Work Includes:
Conversion of all suite bathrooms to individual restrooms and shower rooms
Renovation to all bedrooms and common spaces
New room and common area furnishings, fixtures, and fit out
All spaces will be air conditioned, including student rooms and the atrium area, along with other upgrades to mechanical and electrical systems
Major upgrades to dining areas and central kitchen, including expansion of the commissary serving Penn Dining
Repointing of the masonry envelope
Restoration of all windows
Installation of new room and curtainwall glazing facing the central atrium
Cost, Schedule, and Resources
Total Project Cost: $80M Hill College House Resources & Information
Construction: May 2016 - July 2017
The Pennsylvania Gazette, February 2016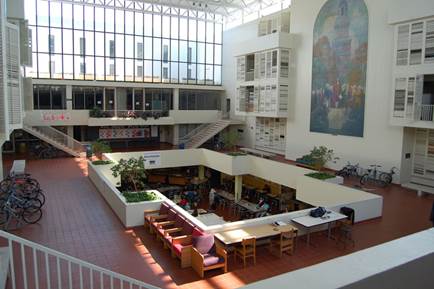 History and Preservation
Designed by Eero Saarinen in 1958, Hill College House is an internationally recognized architectural landmark located at the corner of 33rd and Walnut Streets. Originally a women's dormitory, the building's entry features an allegorical bridge over an ivy filled "moat" and its surrounding spiked metal fence. The living spaces, including five floors of double bedroom accommodates 500 students. Student lounges and seminar rooms are built around a vast central atrium that overlooks a dining area on the lower level. The arrangement is reminiscent of a Mediterranean village where residents live around a central square or plaza where they gather to celebrate, share their news and mark milestones of the year. Other iconic Saarinen designs include the St. Louis Gateway Arch, Washington Dulles Airport in Washington, D.C., Ingalls Rink and the Morse and Ezra Stiles Colleges at Yale University. He also designed furnishings for his projects, including the well known mid-century "Tulip" and "Womb" chairs. Hill College House is named for Robert C. Hill, an 1889 graduate of the College of Arts and Sciences and university benefactor.

More Hill College House Links: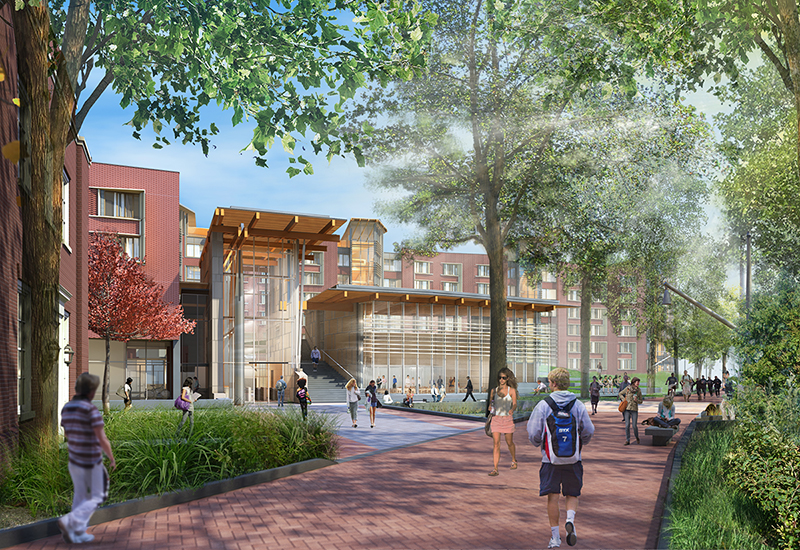 "Generations of Penn students will call this extraordinary place home." Dr. Amy Gutmann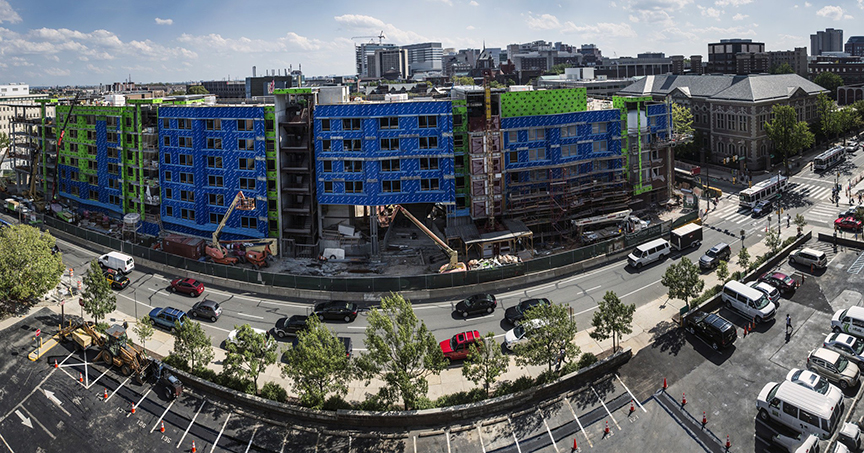 Lauder College House Site, August 2015
Lauder College House project photos will be periodically posted throughout the construction process.
About the Lauder College House
The first signature residential building on Penn's campus specifically designed and built to maximize the College House experience.
Built to accommodate the intellectual, cultural, and social activities that have become the hallmark of Penn's College Houses.
Will frame the gateway to campus at 33rd and Chestnut Streets and will be adjacent to 34th Street, Chestnut Street, and the 125 Years of Women at Penn Walkway.
Click on arrows below for full details.
Residential Design Features



Will house 350 students in multiple-bedroom suites in 1- 6 bedroom arrangements with private bathrooms


Major programmatic spaces around a central courtyard that serves the population of the building and encourages all residents to engage in the life of the House


Large living room designed as multipurpose space for a variety of events


A media center will be located on the first floor


Two seminar rooms with classroom instruction technology


Two music practice rooms for lessons and student practice


Community kitchens will allow residents to cook meals for themselves


Lounge areas on every floor
Dining Design Features



The dining program in the Lauder College House will be a hybrid on an 'a la carte menu' for breakfast, lunch, and late night service and a dinner service will consist of All-You-Care-To-Eat with an option for family style dining


The display cooking island will be a major focal point of the facility and feature a wok range, and grille for both vegan and non-vegan items


The focus will be on community dining. Dinner service is envisioned to be available in family style and include composed salads of the day, choice of a few entrees, vegetable, starch, dessert, and beverages
Sustainability



The project was designed and constructed to achieve the targeted LEED Silver Certification for new construction through the US Green Building Council


A large open landscaped lawn area


A series of green roofs and a below grade cistern will manage the storm water


Low-flow and low consumption plumbing fixtures are anticipated to achieve a reduction in water usage of 30-40% over the baseline
College House System



52% of our undergraduates reside with the College House System


99% of the first year class and 50% of the second year class reside in the College House System


Third and fourth year students comprise the remaining 30% of College House residents with equal representation from both classes


The Lauder College House will provide the premier on-campus living experience with a flexible dining commons and private courtyard, similar to the Quadrangle's spaces in scale and feel
Project Team



Design Team: Bohlin Cywinski Jackson is a Philadelphia based architectural office. They have received more than 460 regional, national, and international awards for design. They have designed projects such as The Liberty Bell Center on Independence Mall and Apple stores around the world


Construction Management Team: INTECH Construction was founded in 1986 and is a Philadelphia based construction manager and general contractor. They have completed significant College House renovations at Penn as well as the National Museum of American Jewish History
Project Budget and Schedule



Budget: $127 million


Schedule: Completion 2016

Fall 2013 Early site work begins

January 2014 Construction begins

July 2016 Construction complete

August 2016 Move in for residents
Click here to see pictures of the Lauder College House groundbreaking celebration.

For information about Lauder College House as it is today visit our Living Options page.